---
Gwyneth Walker
Earth and Sky
for Violin, Viola, Cello, and Chamber Orchestra with Readers (2018)
for Violin, Viola, Cello, and Piano with Readers (2018)

---
Return to Gwyneth Walker Music Catalog
Read Spiritual Exploration by Eve Newman, The Laramie Boomerang.
Listen to an interview about the premiere of this work from Wyoming Public Radio.

Download an an MP3 file of the first movement of this work performed by Musica Harmonia and the University of Wyoming Symphony Orchestra, Michael Griffith, conductor.
Download an an MP3 file of the second movement of this work.
Download an an MP3 file of the third movement of this work.
Download an an MP3 file of the fourth movement of this work.

View/download a perusal PDF file of the full score of the orchestral version of this work. Parts are available upon request. No performances of the orchestral version may take place before the premieres are completed in June 2019.


---
(Photograph of participants at the premiere at University of Wyoming: Michael Griffith, music director; Beth Vanderborgh, cello; Peter Parolin, H. D. Thoreau; Eric Bennet, Chief Joseph; Mia Holt, Chief Seattle; Diane Phoenix-Neal, viola; Joan Griffing, violin)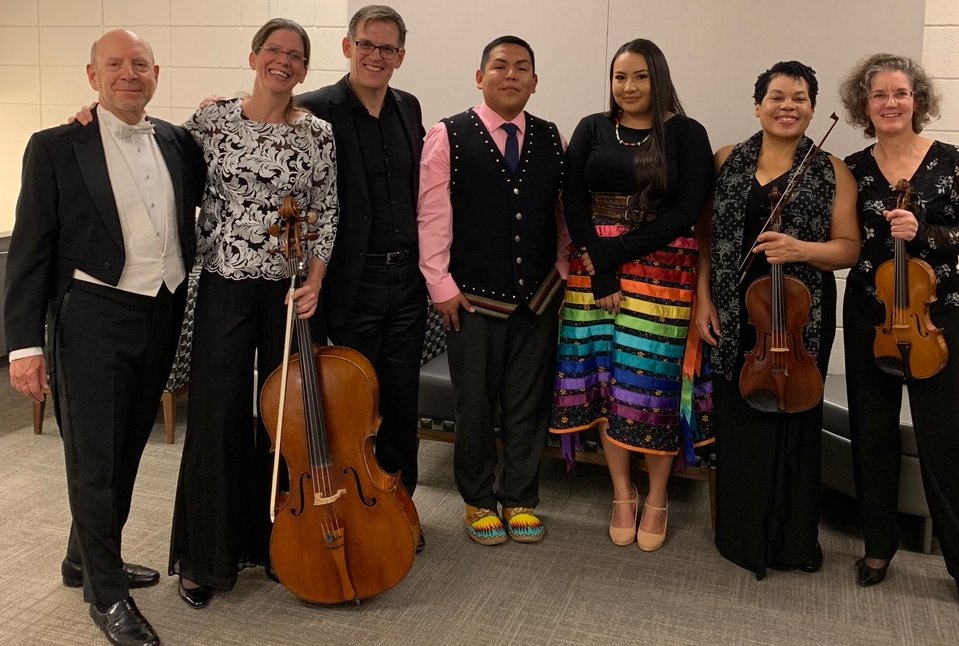 Earth and Sky, a triple concerto for Violin, Viola, Cello and Chamber Orchestra, has been commissioned by the string trio ensemble, Musical Harmonia (Joan Griffing, Violin; Diane Phoenix-Neal, Viola; Beth Vanderborgh, Cello). These musicians have performed together for many years. Truly, they display a "Oneness" and a "Harmony" in their playing.
The work is inspired by the writings of Chief Seattle (Suquamish), Chief Joseph (Nez Perce), and Henry David Thoreau.
Extended notes along with the complete readings (texts) may be viewed in the front matter of the score using the link above.
---